You are currently browsing the monthly archive for April 2009.
I been having insomnia of sorts and sleeping around 3-4 hours a night since the start of the week.
The exception was the realisation that i could wake up late even though i'm not meant to.
They tell us to start well. No better start than to start late, so late, after lunch.
I think somethings start too early in our fast paced society.  Meant to be there at 8, but because of all the redundant ceremonies before that: 7.30, then now its pushed forward to 7.15. Play cheat one -_-
And I thought people would know that quality is more important than quantity.
The best thursday I had of the year I'd think — and I am concerned that this might turn into a habit.
In light of Mexican flu, I deem rest and little stress necessary to my well being. Don't mess mann, Orange alert eh.  (Although I think NOT being mexican decreases risk already)

"For healthy Singaporeans or those who have not been overseas recently, get on with your life! Go out! Exercise! Bicycle! Brisk walk! Go dancing, whatever! We all know when you're active and have enough sleep, you're at your top form; you're less likely to get flu"
Not I say one, Minister say must get enough sleep.
Reality is all in a person's head.
In its most lowly form, the mindgame is there to obtain a sneaky benefit.
#1. One must not be greedy and ambitious and use it to advance
#2. One must not do anything at the expense of another whom you genuinely care about
Then comes its essence of mindgaming for amusement sake. It's child's play really — the child pushes the red button and realises the red light comes on. Either the child generalises that the other buttons will do the same or that the other butons might have a different reaction. Interesting to find out.
But perhaps, I have reached a level of mindgame not on others but on myself. It's really about self-exploration. I puzzle myself. Better yet, if i can score some awesome benefit from myself.
All these because I recalled in my sleep someone whispering (about half a year ago)
what do you want
Recall those quacks who point out strange coincidences of what is considered to be beautiful to have a magical Golden ratio (Amazed at the coincidence i am, but i'm skeptical about the confirmation bias and the reasons for the coincidences)
******
Improve at work
How to improve at work
Ever wonder about those people who say they are giving more than 100%?
We have all been to those meetings where someone wants over 100%.
How about achieving 103%? Here's a little math that might prove helpful.
What makes life 100%?
If
A B C D E F G H I J K L M N O P Q R S T U V W X Y Z
is represented as:
1 2 3 4 5 6 7 8 9 10 11 12 13 14 15 16 17 18 19 20 21 22 23 24 25 26.
Then,
H A R D W O R K
8 1 18 4 23 15 18 11 = 98%
K N O W L E D G E
11 14 15 23 12 5 4 7 5 = 96%
But,
A T T I T U D E
1 20 20 9 20 21 4 5 = 100%
And,
B U L L S H I T
2 21 12 12 19 8 9 20 = 103%
So, it stands to reason that hardwork and knowledge will get you close, attitude will get you there, but bullshit will put you over the top.
And look how far this will take you……
A S S K I S S I N G
1 19 19 11 9 19 19 9 14 7 = 118%
****

Pity I'm too proud to resort to the last to the extent i am insistent on making an effort to do nothing that looks like asskissing.
*****
That being said about work, I am at heart still a good christian boy.
I have seen something else under the sun: The race is not to the swift or the battle to the strong, nor does food come to the wise or wealth to the brilliant or favor to the learned; but time and chance happen to them all.
For I know the plans I have for you, plans to prosper you and not to harm you, plans to give you hope and a future.
*****
At any rate I'm thankful to God for the Gift from the school (enough to raised my spirits for the day. Money can make fatigue and pain go away!)
anddd I would have shared this with you earlier if you weren't busy mugging for exams now
izzy says:

you havent updated ><
izzy says:
since april 11

lloydsho – __ says:

oh ya i havent
lloydsho – __ says:

i been getting home late

lloydsho – __ says:

then falling asleep what

lloydsho – __ says:

eh i have la

lloydsho – __ says:

april 15 and 22
lloydsho – __ says:

14 also

izzy says:

dont have leh

izzy says:

D:

izzy says:

secretlifeoflloyd right

lloydsho – __ says:

i didnt move.

izzy says:

then create new blog for what?

lloydsho – __ says:

heeheehee

lloydsho – __ says:

see who's stupid enough to think its a new blog

izzy says:

-.-

izzy says:

FINDMUCKED ME AGAIN YOU DRUMSTICK
izzy says:
do you do monosyllabic replies? 

lloydsho – __ says:
yeah
izzy says:
THANKS AH
lloydsho – __ says:
HAHAHAHA
izzy says:
did you not realize? 
lloydsho – __ says:
 no
 izzy says:
you are a horrible boy
My thoughts on conservation and recycling?
Conservation is like not putting your full body weight on the plane seat thinking you can stop the plane from going down.
*****
What I would have done (but got too lazy to)
- Bring a huge plastic bag of disposable containers since the school would stop supplying them for the day. I think the vendors (or even the teachers) didn't care anyway — i'm sure especially even the people on top don't want to bring a tupperware back to wash when they can just throw the disposable container away. In fact, I'd probably go entirely disposable for my dishes in future. Might be expensive? But I save on water and electricity and time– which I'd argue is more expensive and more crucial in this Island. (time is especially important in this Island!) The environmentalist ought to award me a Environmentally Friendly Group badge tho it is probably true that I just don't want to wash dishes.
- bring many many small apple cranberry bottles and my cactus bottles in order to swap them for tupperware vouchers. Counterintuitively, this actually worsens the problem where people use more disposable bottles just to get the vouchers. Hrm. The tupper ware people can't be too happy when they get 200ml bottles when expecting 500ml to 1000ml bottles tho.
- Keep a stats counter. How many pieces of paper used for all of our IAs and EEs and (especially for monstermoders like me) during the exams. Multiply it by everyone in year 5 and 6 alone. Then publish many paper pamphlets telling us how we're Enemies of the Environment. Don't laugh, the enviromentalist does use paper to try to save paper.
Not that I don't care about saving the earth, but the last i checked even my 7 year old kid brother couldn't be fooled by this. With all due respect, both the means and the ends are rather stupid in comparison with the Self-full Enjoyment of Life which we compromise on for Mother Nature.
And stupidity, I think, is contagious.
In my olden days in Bates, we often say that the educational institution is a microcosm of society.  A microcosm refers mainly to  a smaller model of a larger order , I'd think. (I could go into the Greek origins but I wouldn't) And perhaps the educational institution is even more of a microcosm than A Coffee Shop.
I generalise. The  following don't apply to all societies and certainly not all educational institutions. What are these patterns of an order that are followed:
A "spirit" of loyalty and discipline is inculcated (arguably even conformity)
There is a budget/funds but nobody really knows where it goes
There is a Development Goal that we all must strive for
The Leader is one whom everyone knows but not necessarily one everyone has seen up close or talked to
The Peasants are just another Unit and statistic and a means to an end
The Intellectuals are in exile =X
The Foreign Talent "steals" your position 
The People Next Door has issues over Living Space and many other trivial issues.
Things are not announced (such as people disappearing) but somehow the people still know the story behind what happened
And the day ends with the common man and his companions having idle chatter about all these at  A Coffee Shop table.
When one skips something important (and usually terribly and utterly troublesome), there is a liberating feeling that makes one happier as a ho.
So I spent the afternoon with some certain (lazy but) high-rank person who is expected to be there and some certain (screwedup) low rank person who is not expected to turn up anyway and The Gardener. In the distance was some certain Mad-Man eating by himself.
I vaguely recall the Madman saying that he promised someone that he will turn up today to compensate for skipping the other. The wondrous power that promises wield once again.
Only the Gardener wasn't guilty of skipping something — i assume.
****
This post might be incriminating to the extent of revealing too much tho i doubt there will be any repurcussions from the people who read anyway.
Unless they rat.
And i can only think of one person who might rat (the Madman might be in danger!)
It's break Lent day — where I have kept 3/4 of my Lent and should soon indulge in tea, vitasoy and tv shows. More here: http://findmuck.wordpress.com/2009/03/07/lent-lent/
Happy Resurrection Day — celebrate the finished work of Jesus Christ that we no longer face condemnation. A season to remember not our love for God (that is rather insignificant) but God's love for us.
If God really were to have been vengeful, this would have been Antisemitism week since the jews killed jesus. Interestingly, some would say that this resulted in the holocaust though as they said that their blood will be on their descendant's hands as well.
Often we hear of this story of the bus driver/train station operator who is placed in a dilemma between saving the whole truckload of people and saving his son only to decide to take the one life to save everyone else.
This I deem extremely noble yet it will not be something that I endorse. In a morbid sense, I'd even give up the lives of 1000 people whom I don't know in order to save the live of one I care about. Don't look at me that way, I'm sure you would too.
Selflessness seems to be a rather engineered social construct by the very fact that its ingrained in our education system –  its always beneficial to make others give up things for you, but that doesn't mean you would yourself.
No, I am not in praise of selfish greed and to actively attempt to destroy others for self interest. I am encouraging a very rational seeking of  happiness which does not encompass any unnecessary sacrifices for society (people we do not care about) even when the need arises.
Thanks be to God for his loving sacrifice.
Dear all,
I have set up an alternative site http://secretlifeoflloyd.wordpress.com/ for the lolz.
Of course it will not replace this at all — i doubt it'd even be updated if anything.
Since there isn't a secret life of lloyd.
***
Recently I have been wanting something that has caught my attention elusively and might actually act on it unlike previously.
Ironically (and much dictated by the Laws of the Universe), the only time I might not-be-passive happens to be when I have personal constrains imposed on myself — largely out of my free will tho. In other words, I can't. Even if i could, the outcome will place me in a difficult  situation. In other words, it's better I don't. However, I might react if things take a natural course.
(or a mere excuse)
Now that it is over, I concede (in more than one way) that a certain someone was right about what I have been doing/the illusion I have been creating all the while.
However, my Intentions have been misread in a rather cynical manner. I would think that my Intention was to try to keep things easy lest I earn the displeasure of others in the long term. In other words, it was to be nice, or at least try to.
I am also somewhat amused (and disturbed enough) that my methods can be read
Nonetheless, this is a new idea to consider and think about.
*****
A Chess Symbolism.

I read on somewhere (go Find it yourself) that the clever king protects his pawns instead of hiding behind them and sacrificing them.
No doubt there is merit to this statement, but this view fails to consider the reality that some things need to be sacrificed —  and between a larger piece and a pawn, the king doesn't have much choice, does he? Idealistically, no King should allow any piece to be taken. However, when one absolutely has to give up something (which is inevitable), it is common sense to sacrifice the small to keep the big.
Perhaps the pawn serves a purpose of distraction and the loss of pawns creates a facade which enables the chess-player to map out a grander scheme.
There are two morals of this story:
First, prioritize – though I'd argue that this mindset has caused many unnecessary sacrifices like sleep, free time etc which are important although not important to the "long-term" distant, can't be seen now or for certain, objective.
Second and more importantly, if you don't want to lose any pieces, don't play chess. The answer to not having to make any sacrifices would be to lay off zero-sum games and competitions where people are out to get each other. The wisest King stays out of war.
What I'd like to know is the symbolism behind the pawn becoming the Queen/a more powerful piece by reaching the other side. I could understand a promotion to being a rook or knight for its achievement but to become a new queen?! O_o
****
On Holiday
I am also going to take a long "social holiday" from someone as a form of break for perhaps two weeks.
Not that it really is necessary, I exaggerate how bad it is on my part, though I'm not sure how bad it is from the other's perspective. (I can be quite a pain/ass/pain-in-the-ass at times)
But for the lolz and to amuse myself (in addition to other reasons) I would anyway.
Besides i have had a habit of taking "social holidays" anyway (recall the "I'm Still In Boston" when i'm not) — its somewhat an extension of myselfdays.
***
There is no Ho day during holy week, there is only holiday.
Perhaps I should further extend this to a myself weekend. But I am somewhat concerned about someone downstairs who has not been feeling well…
In order to get work done, there was no choice but to coerce me and catch me from running away especially when the day is tomorrow.
Something is not quite right when your past few days have been spent staying late in school doing the presentation instead of spent doing nothing that much.
Truth be told, there is not much to change since last year's. All should be fine.
And an interesting question: "who is  more of a slave driver?"
Of course not me la, I doing a lot of small nonsense thats why I need to hide and stuff.
I was asked the other day (actually on a few instances already)
Are you on drugs?
How am i supposed to respond appropriately again? -_-
*****
Compulsory bio class has incapacitated me from organising debate every wednesday. ohwells.
It is most unfortunate that I have to spend my afternoon till 5 in bio class because I only got a 36 and I cannot afford to miss out on a proper lesson.
Looks like my junior two years younger has to handle all the work then. I'm sure he'll do fine, its a good maturation experience (since my year could singlehandedly handle it two years ago as well)
While I think that someone is a bit too concerned/pre-occupied/perhaps obsessed with getting something done, I have no sense of urgency as I think its too far away (not to mention that i'm not very concerned either).
I am mildly suspicious that someone is obviously not happy at my dodging, for now and i might very well end up on the bitch-list (though unlikely, i hope)
Not to worry, this post is not about who you think it is (it is not the Most Intuitive/first thing which comes to your mind)
***
It was a day spent dodging responsibilities and finding a temporal tranquil escape corner to appreciate the moment.
It was an afternoon well spent — tho I got back only when it was dark.
I foresee the days later in the week to be not-so-nice, at most having the Dark element constant.
Based on some deep discussion I had (in an attempt to stall for time to entertain myself), one day I am going to write this short story about the reflection of a bitter old man and his search for happiness. It will be much like a children's story or a fairy tale.
In order to fit the mould of a children's story/fairy tale, the story wouldn't involve a young boy and his reflection of a bitter old man in the mirror whenever he was tired and unhappy with the world and its ideals/idealism. I need an illustrator. In the meantime, I'm not divulging the ending.
Alternatively, a play could do — but that actually needs a lot more skill than a children's story. Children story not so much because of its fantasy element which children might be able to relate to, but to mask the fact that I can't write for nuts. "Ah yes, in short sentences so it is easy for children to read!"
 ****
Read of the (previous) week: Oscar Wilde's collection of fairy tales, where the performed Birthday of the Infanta was taken from.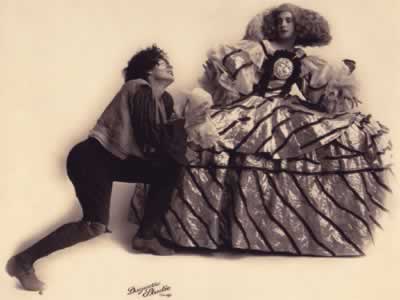 "you are the daughter of Ferdinand! " (The Birthday of the Infanta imho was the more boring of the fairy tales btw.. It was the only one i coincidentally skipped)
(Bought for five dollars in USA.)
Perhaps not quite for children at times but its easy to read and well written. I am interested to find the original fairy tales which were indeed more Grimm instead of their Disney/children's books versions. Heh.
Of course fairy tales aren't as plain as we think they are, there is always something deeper.
********
In the meantime, I want this magic ring which King Solomon once asked his wisest minister Benaiah Ben Yehoyada (note: not indonesian) to find for him.
A riddle: what is this ring?
According to the Torah, the wise advisor did actually find this ring. Interesting.
What is this ring?
I want my room to be very similar to gremlin's room at present – with huge bed and sliding table right on top of the bed to put com/books and a shelf next to the bed such that everything is almost in reach without needing to get out of bed and the table is rendered redundant. Thus far, my almost ideal room has the com right beside my bed on a lamp table and my table being reduced to a mere paper dumping ground.
Even more ideal would be for me to have a nice facade of a neat house at the living room and my own messy quarters at the back which no one can have access to — which ironically will be the real Living room.
Strangely, my room is actually neater. Discounting the organized mess on my table.
The King Of Siam announces that he is unfit for duty– in some sense.
He cannot be deployed anywhere apart from Support bases.
He is excused from running marching jumping
He will have 7 weeks of something lighter  instead of 9 (or maybe even 17 if shit went bad)
as a result, he has no incentive/need to do the Test and hence probably would not.
There is one catch — this will only last for the first three months tentatively, after that it will be up to me to have it extended. For now I have a period of rest while my Punning Clan incubates.
I am happy and appreciative and I thank God.
saiwengshima.