You are currently browsing the monthly archive for May 2010.
Previously I had been toying with the idea of learning a Third Language. I figured that my mother's tongue was not sufficient for me later on in life and I had to move on to the tongues of other…nevermind.
Back then I thought it'd be a good use of my two years to learn a third lang, but i just didnt know which. Its like knowing you want to eat lunch, but not knowing where to eat — a very common problem for me.
I shortlisted a few other tongues.
1. Japanese. (i tend to misspell the panese, i dont know why ><)
Yes, because it opens up one market.
No, because 1) it only opens up one market — only one country in the world speaks Japanese, make a guess. 2) seems as if everyone is learning it — from those wanting to work for the Ministry of Flying Abroad to otakus wanting to watch anime (among other things) to the singaporean girl trend of wanting to be pseudo jap. 3) its actually quite hard. I mean, it alternates between letters and chinese kanji (hanzi) — always wondered when to use what and the Chinese word might mean something different in chinese, like feichangkou is emergency exit instead of Very Mouth >< I can see how Feichang means emergency as in less common tho.
2. French (or as my previous clerk called it ' Franch', dont blame him, he thought Sloppy was a 7-11 drink).
Yes, it opens several markets including in Africa. And its especially useful if i decided to go Look-See-Europe in a few years. Gremlin would add that the French are the only people in the universe to stuck up to learn English (add to my previous point, the Japanese are willing but not necessarily able.)
No, because the African bonus doesnt quite appeal to me and the phoenetic system is completely different from english.
3. Spanish (I can hear him call it "Spainish" already or something close to a vegetable  -_-)
Yes, because Brazil as the fifth largest country by population  and fifth largest economy presents future opportunities as a market in South America especially with some macroeconomic factors stabilising recently — or so I've been telling all my Money Providers at the interviews. In addition, its probably easier to learn and I did get exposed to it about ten years ago tho very briefly.
No, because given the geographical proximity of Brazil to USA by the time it fully expands many will learn English already (weak but believable assertion) but not like I intend to be doing ground level marketing anyway. Also, it might not be easy…
In short, my case against taking a third lang is very simple.
Cost: Its costs are high, not just in terms of money but in terms of my precious time to enjoy myself. Its not easy and a language cannot be easily learned in its entirety within a few years. On another level, there is an opportunity cost of time where I'd much rather be reading about political sciences instead of memorising a wordlist.
Utility: English is spreading anyway and its not that likely that I actually have to deal with foreign clients of that level yet (assumption with lack of foresight). Quite jacked if you spend four to five years learning Japanese only to deal with Indian clients for the rest of your life.
Practicality: its hard to learn plus languages tend to fall apart if you dont use it for too long (consider my standard of chinese over the years upon entering ACS)  meaning to say, it might be a wasted investment in the long run.
Alternatives: I'd much rather brush up my chinese actually, such that I'm more proficient in reading, thus expanding a market of available literature which is actually cheaper cos I think most chinese dont like to buy books or something. If i can invest time in memorising a foreign vocab list, I can do the same for Chinese right? After all language is such that it needs both breadth and depth to be used well.
Overall: its troublesome, not easy and I'm lazy.  There are better things to do.
*****
But for literary appreciation week, it is more of English literature — poetry and other such nonsense which I liked to read and some extent bullshit an essay, but always thought that it was stupid to be taught.
To start of literary appreciation week, there is a simple nonsense short poem.
Roses are red, violets are blue.
I just want to
Sniff some glue.
I expect that some certain nonsense people will comment with their own nonsense poems.
Make a mental note to read The Sea, The Sea soon if possible.
Remember what they say about computer games being a waste of time, energy and could cause brain rot?
My mum recently went for a parenting seminar (a bit late for me by now, but i seem not too bad for now…) and was told that kids these days are too stressed by our education system and hence many resort to computer games like Defence of the Ancients (Dota) as a form of escapism from the real world. A very straightforward explanation…although my explanation that they simply enjoy it sounds more probable — not that i play such games.
Instead I have no more school and I now play this virtual reality game called Alternative Reality of the Middle Years, where I get to fight imaginary enemies with imaginary bullets to get imaginary Level Up (with not so imaginary punishments and injuries)….
In this game everything seems to be an inversion of the real world.
IN THE REAL WORLD: the hardworking and the productive are rewarded, the weak are disadvantaged.
In Alternative Reality of the Middle Years: the hardworking and the productive are rewarded with more work, the battle goes not to the strongest/fastest/fittest but to those who stay away from the battle.
IN THE REAL WORLD:if you want things done well, do it all yourself.
In Alternative Reality of the Middle Years: Doing as little as possible and letting others have a chance to prove themselves gets things done best.
IN THE REAL WORLD: don't ask stupid questions.
In the Alternative Reality of the Middle Years: don't ask smart questions. .. if at all.
IN THE REAL WORLD:  ask and you shall receive.
In the Alternative Reality of the Middle Years: don't tell, don't ask. In other words, if they never say cannot, then assume it is can. (<– shit, this is an example of degraded english from the Alternative Reality higher-ups)
Truth be told, I'd really want to stop playing this Alternative Reality of the Middle Years as soon as possible. Taking breaks over the weekends is extremely satisfying but still not enough. Its as if I'm hooked. I want to get out of it but I simply cannot.
[...]
I still think there should be a computer game RPG simulation for these things. But people dont really want to 'role-play' real life, i mean whats the point of playing a game about school when you go to school. Just my over-active imagination toying with the ideas of 'computerisation' and the third generation technology.
I know I once had a metaphor of three different women which was actually quite apt– now the 3 women dilemma has been resolved and I settled forthe simplest with arguably the least challenge and work to come tho with less Trophy-glam but one that i'd be happy with anyway.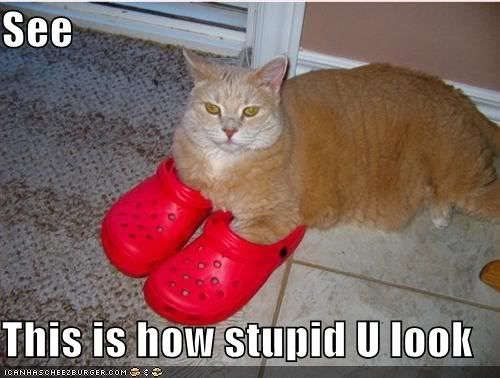 BUT never in a rain dance have i expected that similar things could be compared to Some Classy Girl's Shoes -_-
Learning from the above — guys all want to have a pair of leather shoes, but what guys would really be happy with is a pair of slippers!!!! (REVELATION)
…and I am one who would give away my leather shoes for a pair of slippers. Let alone fucking boots.
heh, its like that mean statement i heard about "most guys want a (Person X) but in reality would be happy with a (Person Y)".
[....]
"By the way, most people tend to derive analogies based on what pre-occupies their mind the most…like shoes for instance"
"oh, really. hrm..   ._. "
which reminds me of my old classic that I recall since I went to The Island just this week — the analogy of the RIFLE. I must add very in a very politically incorrect manner that we're all very happy to quickly get rid of the rifle after a while.
Unlike pretty girls — they need to be around other uglier girls in a crowd in order to make themselves stand out and feel pretty-
in contrast the chess practitioner needs to constantly seek to be in the presence of other smart people just to prevent rusting
in order to learn from them and more importantly under pressure emerge stronger to meet the challenge
preferably with as many other practitioners as possible to have a taste of their different styles
and at the end of it all, laugh it all off and talk about life in general over tea.
…but chess practitioners never seem to ever get satiated. Do they?
Lin Yutang on Paradise Lost:
"It is amazing that no one ever questions the truth of the story of a lost Paradise. How beautiful, after all, was the Garden of Eden, and how ugly, after all, is the present physical universe? Have flowers ceased to bloom since Eve and Adam sinned? Has God cursed the apple tree and forbidden it to bear fruit because one man sinned, or has He decided that its blossoms should be made of duller or paler colours? Have orioles and nightingales and skylarks ceased to sing? Is there no snow upon the mountaintops and are there no reflections in the lakes? Are there no rosy sunsets todat and no rainbows and no haze nestling over villages, and are there no falling cataracts and gurgling streams and shady trees? Who, therefore invented the myth that the "Paradise" was "lost" and today we are living in an ugly universe? We are indeed ungrateful spoiled children of God."
I commend 'humanism' more so than orthodox religions, but my faith is unwavered. There are many things I don't have the answer to and don't care about — I don't care about the many questions of Creation and Apocalypse, Afterlife, Heaven or Hell. Ryuho Okawa in his Buddhist book "The Challenge of Enlightenment" writes that a religious truth shows how things should be and that if it were to be shown as how things are, it would be a major problem.
I don't even care about why there is still suffering in the world. Frankly I have no idea why others are suffering, as long as I know that I'm well looked after — I truly view my faith as a personal relationship, one where I express my appreciativeness and thanks. So personal that saving the souls of others is beyond me even though it might follow Jesus' instructions but who can follow all his commandments all the time? Who can truly say that they love god with all their heart all their soul all their mind even more than their girlfriend, mother and pet dog (In fact I'm more concerned about Christians who try to take too much burden upon themselves unnecessarily)
To me, it is essentially more than a ticket from hell to heaven — since im not concerned about matters of the afterlife — it is seemingly trivial a reason. To me, it is more than asking for healing, good results or good results for downing PES. I feel that it is about being thankful, being at awe and being humble that the things you now possess didnt come by your strength alone but was given to you…and much more which im not completely sure of yet.
Thus ending this Religious Emphasis Week, maybe next week will be Political/Historical/Militarical emphasis week.
Lin Yutang presents a very strong atheist argument in his chapter "Why I am a pagan":
"All I know is that if God loves me only half as much as my mother does, He will not send me to Hell… Still more preposterous another proposition seemed to me. This was the argument that, when Adam and Eve ate an apple during their honey moon, God was so angry that He condemned their posterity to suffer from generation to generation for that little offence but that, when the same posterity murdered the same God's only Son, God was so delighted that He forgave them all."
Lets not nitpick on the choice of fruit as a red-herring. I find this argument quite compelling and the typical rebuttal is that 'as much as god is a god of love, he is a god of justice' which begs the question about the entire premise of his system of "justice". It kind of reminds me of 'paying protection money' — where you pay the mobster to protect you from him.
I quote Karen Armstrong in her book "The History of God", who quotes Marcion (talk about third-hand borrowing of ideas) that there is a Jewish God who was "lustful for war, inconstant in his attitudes and self-contradictory"  who had created the world. But Jesus had revealed that another God existed, who had never been mentioned by the Jewish scriptures, who was "placid, mild and simply, good and excellent".
Interesting thought and some may even find the idea of discarding the old testament heretical but its nonetheless something to think about.
Lin Yutang again, on the arrogance of man in the relationship to god, in a very chinese sounding way of descriptive writing:
"Out of humility, of intellectual humility, simply because I can no longer, with our astronomical knowledge believe that an individual human being is so terribly important in the infinitesimal speck on this earth, which is an infinitesimal speck of the solar system, which is again an infinitesimal speck of the universe of solar systems. The audacity of man and his presumptuous arrogance are what stagger me. What right have we to conceive of the character of a Supreme Being, of whose work we can see only a millionth part, and to postulate about His attributes?"
The question is — but what if god does. what if his love is indeed that unbelievable, beyond any passion comprehensible to the human? A god who numbers the hair on your heads. Then it no longer is an argument for atheism, but one against (provided you actually have God-tinted glasses)
One then wonders — why does it matter to the omnipotent God whether or not you pray to him or sing a song of praises. I think that truly it might be about us — we pray not because God needs it, in all honesty, it is because we need it.
By the time this post is seen I would have returned to the island for a short one week vacation. I hope that Thursday arrives quickly.
I thought it was quite a sweet and fitting thing that I read about the nature of war (which I never did touch in ib, despite it being part of my syllabus). But here's a quote from military historian Michael Howard on warfare from 1700-1789, a time where the musketeers, pikemen and calvary were still around:
"it became more difficult to recruit into the ranks of the armies anyone except social drop-outs, criminals, dupes and half-wits who could only be kept under control by ferocious discipline."
Boy am I glad that the nature of warfare has changed so much since 1700s in Europe!
Lin Yutang on the Origin of Satan.
"They could not have very well admitted that the Devil, who was Not-God, came from God Himself, nor could they quite agree that in the original universe, the Devil, a Not-God, was co-eternal with God. So in desperation  they agreed that the Devil must have been a fallen angel, which rather begs the question of the origin of evil (for there still must have been another Devil to tempt this fallen angel), and which is therefore unsatisfactory but they had to leave it at that."
****
This is day one of quotations from Lin Yutang. His book (The Importance of Living) actually focuses on living and idle pleasures from a very Chinese mindset but I will just so happen to be looking at the theme of religion seeing that he was "raised a zealous Christian" before becoming "happily pagan".
I still don't know why people want to be a doctor. This baffles me more so than why people want to be a lawyer. The hours are long, the studying is hard, the houseman training can drive people to the point of filmingnursesinshower lunacy. Its one of the few professions that is dirtier and bloodier than politics!
AND hospitals atmosphere sucks. It must be the immense amount of negative energy from the suffering patients in C class wards eating porridge as well as those in the long and inefficient queues at the dispensary among many other places including the toilet.
I don't know really — but when I was there, the air was unsettling. I sort of got lost ( i get lost almost everytime on my way to wing two) and spent a lot of time going down long empty corridors that looked so plain as well as long crowded corridors that also looked so plain. On several occasions I had to edge towards the wall as nurses pushed past patients. Maybe it was because I had to wait an entire hour for my appointment, and another half an hour before collecting my CODEINE and realising that full subsidy is ending =\ I wanted to get out of the building as fast as possible
It was nonetheless an afternoon out and a day I spent travelling from sembawang to jurong to clementi to dover to woodlands to tampines estate to tampines central to tampines estate to bishan before going back to jurong. Count the stops before you even count my travel fare.
****
and I was wondering, "how am i going to explain to the doctor why I havent been to the hospital for a check for so long…"
Do you remember the toy man with a tall dark hat and a red coat, when you wind the back, it plays a silly tune and starts to walk forward with its stiff wooden arms moving — that is the Conscript Dance…. At least its not playing Bagpipe music though — where the sec 1s cover their ears, the sec 2s mock, the sec 3s are used to it and by the time you're sec 4 you're not even present for such events!
Wednesday: Most people are at some Conscript-Dance rehearsal. You're part of the bunch that remains at base (due to the Yellow Band). You are conveniently put with a bunch of friends you normally hang out with to do a few mundane things like peel tape and wash bags for a short while and then go up to sleep after a quick (and lax job)
Thursday: Most people are still at some Conscript-Dance rehearsal. At 10am you're lazing in bed waiting for further instructions, the IC comes to your room and you have this dreary expectation — "argh, now there's gonna be things for us to do, probably as mundane as peeling tape and washing bags like yesterday."
"Go for lunch from 12 to 1. Be back in your room by 1."
"wait, what happens before that."
"do whatever you need to do."
"after that?"
"wait for further instructions."
"I like the sound of that
"
You almost finish reading your book and took a four hour nap in the afternoon. The parade people come back with a tinge of lobster in the skin — it almost renders the yellow band redundant in classifying and identifying cripples.
Friday: Most people are at the day of the Conscript-Dance itself. You wait in bed the whole morning for further instructions. Before it arrives you realise "oh, its time to go out for my medical appointment, before that I shall go have lunch with my mum and then go home."
That's five hours earlier than the other cripples. And nine earlier than the parade people. For some strange reason, everyone else in my room has a medical appointment as well — by sheer coincidence of course.
***
Ah life is wonderful with much to be thankful about. And as usual, I give thanks for things i do not get (while others are getting it — not that its schadenfreude or anything, but contrasts with others always helps you to be appreciative of what you have) instead of things i get. It is more important to not get bad things than to get good things imho.
After all, the week to come will be back on the Island (with sleep hours of 2359 to 0430). Its small compensation really, but at least I didn't spend the three days in the thick vest under the sun doing the pointless — I insist that there is actually more social utility in washing bags and peeling tape than THE CONSCRIPT DANCE.
Its quite funny — I've been given a yellow wristband to signify that I'm excused runningmarchingjogging. I call it my "power limiter". (And i've been telling people that the first step to genocide is classification and the second step is symbolization lol)
But when you see the words "LAST TRAIN TO MARINA BAY: 1 MIN" — the lame can fly again.
Taking off my ACS-tinted glass to speak from a very un-acsian perspective:
No, lowering the chinese weightage is not going to cause the doomsday scenario of students not studying chinese because we're Singaporean, we're kiasu and proud of it, every mark counts and the effort put in will be the same. After all, we wouldnt dare risk losing the one to two marks necessary for a cut off.
No, lowering the chinese weightage isn't going to make things easier if the effort put in will be the same — it will allow the "naturally disadvantaged" to do better though!
No, just because some people don't do as well in a subject 'naturally' is no justification to lower weightage. Surely we wouldn't lower maths just because many people struggle with it!
No, just because bilingualism was a mistake doesnt mean that weightage should be lowered since it doesn't actually make things easier
In principle, I do not believe that there is a good justification for lowering weightage. In practice, I do not think it will solve anything. I do think that it will make the English speaking (usually aristocrats) extremely happy though, but at the same time the non-english speaking (and usually channel eight watching) rather unhappy!
****
And after several years of bate and mun, you're forced to see things from different angles. Bate shows that there is only a Yes or a No where you're either with us or against us and you're forced to see things from an Opposing Angle. Mun shows that there is a middle ground, in fact whoever produces the best middle ground (and flirts the most) wins.
The end thought is simple: people don't really care about the underlying principle of what is right and what is wrong, they care about their stakes – principle arguments (such as cultural importance) are merely a persuasive excuse to protect self interest of those who can do well in Chinese and….
….Chinese teachers —  who wouldn't want to feel less important (something that is quite prevalent in my old school, but they're well paid and most mainland are pragmatic like that).
[....]
I think we've been missing the point and taking the wrong lines out of the chinese comprehension passage to answer the question. Here's what I think should be done: on the premise that bilingualism, it is not the weightage that should be lowered, but the standard of Chinese.
I agree that the chinese language is very useful given The Rise of Modern China even though not everyone will be doing business in China. We wouldn't know who might need it in future. Although I actually think its quite negligible — most Chinese are attempting to learn English anyway. And extending your logic, we should learn one or two of the Indian languages and Spanish for other rising markets like Brazil. But we don't because translators are there for a reason. In fact, gremlin would say that we should learn french for french markets cos theyre the only people too stuck up to learn English. Maybe Japanese as well…cos they just can't speak English.
Furthermore there is a mismatch between problem and solution. If Chinese was important for practical business purposes, then do we really need to know the Four-Letter-Words and how to write long descriptive essays? Surely this needs to be evaluated.
In fact, I will argue counterintuitively that it is Easier chinese and not Harder chinese that can induce a greater appreciation for Chinese among students! All students like easier subjects, the moment a subject is hard they start to dread it and that might even deter them from the basics!
If you reallyyyy want, it is also Possible that a smaller Chinese syllabus could free up space and time for an additional language which will probably have a larger marginal utility. I would suggest malay, but that would actually cause EVEN MORE social backlash the moment *inflation* kicks in and standards get evaluated upwards. >< As a whole, I think a third language is not a good idea but will only add to what is more than enough stress for ten year olds these days.
And in terms of the feasibility of implementation, lowering the standards in the nice name of "syllabus reform" will incur less social backlash than lowering the weightage. After all when standards are lowered, everyone benefits, as compared to how those who are good at chinese lose out when weightage is lowered.
[....]
Three additional endthoughts:
1. I still think that its about Chinese Teachers at the end of the day, with historical (and political) roots that I don't really want to mention.
2. I also still think that there is a ACS boy (or maybe several) in the backdrop responsible for this idea. One could perhaps just look up who is in Ministry with a primary school kid….
3. Mother Tongue could be this really really crude euphemism… ><
I keep having this recurring dreams of losing something material but valuable to me and then having to go on a wild goose chase for it — at times resorting to underhanded means, other times interrogation and slight violence — more often than not asking Non-Playable Characters how to get around. (I have been playing Final Fantasy Tactics ever since borrowing a DS — and now need to find a way to put in games like chrono trigger, golden sun and the new ace attorney that centres round Edgeworth.)
Perhaps some of these things arent -that- valuable in terms of indispensability and only moderately so in terms of monetary value, such as phone, zen player and a pair of shoes i wear around often  – but they seem to be things that are part of my everyday life.
In addition, I have this slight quirk — regardless of how unvaluable or replaceable the possession is, I just want to know what happened to it and how it disappeared. Often this is the case with my laundry, of course my socks and underwear are  extremely replacable…but just where the hell does it disappear to!? >< This might just be due to a sense of attachment — buddha would not approve. Although its a bit like the shepherd who leaves behind 99 to search for one sheep (conventional wisdom will seriously question this), at least I didnt leave behind things to that extent…only to some extent.
Quite curious what the dream, or rather dreams, might mean. Perhaps I'm searching for something or think that I lost something that was originally mine. I don't know really.
****
ON TOP OF THAT,
I just recalled that I dreamt that I had tea with an air force colonel who was trying to find out some  personal/family things amidst a bunch of other mess.
And I almost forgot to mention (apart from telling my dad) that I had a dream two weeks ago where I met the MMentor in a limo where he tries to persuade me to do oxford-law. I was half convinced.
Then comes the part where I ask daringly about the stance change pre-65 and post -65 and I was able to quote things from a key text to my EE. Probably because of doing that presentation which turned my EE into a powerpoint.  For that, I got completely owned in argument, reason and authority ><
It's a bit like those dreams where people see Jesus in their sleep asking them to go to Africa to be a missionary or to set up a new Chinese State. It's almost blasphemous.
It was probably the post-lunch mood. Today Gremlin and I had fun messing around in Cold Storage with phony French accents, namely at the Sausage section, reading sausage names like "British Bangers", "German Cocktail" and "Old English Sausage" (which is this wrinkly sausage. I actually think her fake french accent is better than mine — and honestly speaking that both our phony accents are better than some other ones i heard in school.
And for some uncanny reason, it was the day we ran into angmohs the most — and actually french in specific. Not to mention a chinese couple with american accents which I overlooked while checking my surroundings at the sausage shelf for angmohs.
It's so fun doing such nonsense in public…a leetuh beet.
****
I should catch up with this series — but… i barely had any time in front of the com this weekend =\
What was supposed to be an intensely enjoyable and comfortably pleasant day ended with a dark reminder of things that I resist thinking about — in turn spoiling the remaining few hours of the day and leaving me moody with a glass of Comfort, right after a long hot shower, as a headache cure. Hopefully it banishes the unexplainable temptation of kicking cute furry animals that I have now as well.
In a practical sense, I am thankful that I still retain my faith (even while on my wonderful and rather large glass of Comfort) and recall that this is not my problem to worry about — that I can say everything will be okay.
At least I feel less heavy laden now — might just be the Glass though.
I broke the rules – again. It was too much trouble to put on a shirt after a good shower just because of a few stupid women around. (I infer from their Major Decision about the course their life is taking that they cant possibly be of very sound mind) Why would they mind anyway, the other courses run around the entire camp half naked.
But this time I was almost caught. From a distance I saw a higher up putting on his shirt in his room with the door open. He saw me too.
"CONTACTED!" I actually said in my head.
And before he could open his mouth, I took off running in my flip-flops. I was thankful for the towel over my head that wrapped me either like a Moslem woman in a hijab or a Jewish priest in a tallit. Too bad I didn't wrap the towel like a burqa.
And I ran as fast as I could (which wasn't much actually ><) to the staircase like a woman running for her life in Iran.
At 5am, he came into our room and turned the lights on but within a second he noticed that he had made a mistake.
It must have been the fact that I was Chinese and without tattoos in a rather neat room that was free of smoke-smell, that he realised it was not the drivers' room.
Last night I ended my long week by doing…work. It felt like school again but more fun. In a strange sense, I have actually made more powerpoint presentations after ib, than during my final year of ib — the bulk of which were for interviews, all of which were quite fun.
This presentation was actually a rehash of the EE i was very proud of and it was quite a pleasure to re-read. As always, my powerpoints are minimalist to the core (heh, as the old dude in charge now says "Minimumly" lol) though this one is a typical black font on white base. Its not like my future hinged on the presentation, its just work for my latest employer, i mean, current employer (current is more accurate than latest). But i take pride in being hyper efficient in such work finishing within two hours of getting home. This is much better than the week before where I got home at midnight — more about this some other time.
But I would like to emphasise not how excellent I am a worker — but the idle pleasure of waking up the next morning lazing in bed with not much to do. The living room sounds like a ballroom. The morning looks infinitely better than the concrete wrapped sauna I've been in for the week. Weekends are no longer a time for catching up on sleep – the weekdays are for catching up on sleep – weekends are for catching up on life. Time spent unconscious over the weekend is time wasted.
Then I spend some of my morning playing with my dog, throwing bread at the doorstep to feed it, then throwing it into the enclosure which it has to go a big round to enter…then throwing bread at the doorstep…then the enclosure, and the doorstep again and… you get the idea. This must be how it feels like to be a PE Teacher (i would use a more relevant and recent counter part to the PE Teacher but idontwannagetcharged) — bored, braindead and making other people do equally braindead and mundane things. Its in the name of exercise, fitness and discipline of my dog after all I'm feeding it and its necessary that it doesnt get fat. (The damn dog doesnt even need to scan a card for its meal) Its like how I exercise after drinking the night before….
…which reminds me.
****
Also my presentation starts very craftily with the "why do  we serve" song, includes seldom seen quotes of the M.Mentor (heh) and ends with "Dulce et decorum est" as a questions slide — i dont think the people on top will catch what it means, and will be too paiseh to show they dont know what it means.