You are currently browsing the monthly archive for February 2012.
http://www.godhatestheworld.com/singapore/index.html
S.M.L.J?!?!?!?
Yet another one of those fundamentalist sites — except that this one amuses me more than it annoys me.
But in the long and short of things, I find the idea that God hates ________ quite abhorrent, ridiculous, and nothing more than a vanguard for one's own deep-seated resentment/hatred. It's unchristian.
Plus I find it really hard to understand that these fundamentalists can be all out anti-abortion for its loss of life, yet be happy when the supposed godless/sinners get a disease and die. Something contradictory there.
LOLWTF Nonsense quotes. I would comment, but its really self  explanatory:
1. "Regarding the sorceries of these demon-possessed people – Singapore is utilized primarily as the transportation and financial services hub for drug trafficking and that is due to really strict laws and even executions of drug traffickers."
2. "Although they have never actually gotten any significant earthquakes in its history, when China Indonesia and other nations round about had their huge quakes Singapore felt the aftershocks.  Now they are all full of terror and that is just how Our God rolls!" 
3. "Although not  really common they do happen, in 1950 a big tornado tore through Serangoon, Singapore and injured seven people."
4. "Much like DOOMED america's California, this little nation is being pummeled by God's strategically placed forest fires; in February, 2009 they reported 100 such fires in that single month…They are so obsessed with how smart they think they are that God keeps them busy analyzing the effects on their air quality from the blazes because that is their particular curse"
5. "They are a Sovereign Republic, with a legal system based on the English common law.  That means that it would come straight from the mouth of God as delivered to Moses on the Mount.  They have a Constitution which sets the framework of the three organs of state, namely, the Executive, Legislative and Judiciary branches.  Just like in Doomed america"
Point 5 is just ?!?!?! Interesting, cos I just finished (smoking) a three hour long paper on English Common law and wrote an essay on sources of law, I don't remember Moses on the Mount being one of them. Unless they meant all laws in general, which doesnt make sense either.
There's quite a lot of religiously insensitive remarks and comments that defame the government. There's supposedly a lot of backing up with scripture though (which I can easily dissect and show why they're misapplying it if I wanted to, but I'd rather go sleep now) I reiterate that none of the stupid views expressed above are mine.
Whatever happened to compassion? Stupid fundamentalists.
"Oh my god… How did I drive into this wilderness? I can't even start the engine now. Now to get out and walk. Oh shit, I'm in my painful heels!"
Saw this ad in the IHT earlier this week. I mentioned numerous times before that whenever I see a young and beautiful woman driving a damn nice car, that she's probably some rich guy's mistress.
Of course she might be a successful investment banker or lawyer who managed to promote to the top — since she's beautiful.
It's karma. I recently messed with my junior's mind-eye by reminding him that my sister looks like me.
Soon I realised that the girl in my cubicle resembles some friend of mine who's happily studying in america now (i think quite a number of people reading this will know him -_-) Spoil my mental image, KNN.
But this morning, I was most distracted by how someone could look so similar to someone I know from the side view, when looking down to write, and yet so different apart from that.
All these must mean that my monthlies are expiring soon.
"LOS ANGELES — The one thing 14-year-old Moshe Kai Cavalin dislikes is being called a genius.
All he did, after all, was enroll in college at age 8 and earn his first of two Associate of Arts degrees from East Los Angeles Community College at age 9, graduating with a perfect 4.0 grade point average.
Now, at 14, he's poised to graduate from UCLA this year. He's also just published an English edition of his first book, "We Can Do."
The 100-page guideline explains how other young people can accomplish what Cavalin did through such simple acts as keeping themselves focused and approaching everything with total commitment. He's hoping it will show people there's no genius involved, just hard work."
Read more: http://www.nydailynews.com/news/national/boy-genius-publishes-book-enroll-college-age-8-article-1.1022930#ixzz1mY2hp37g
A few quick thoughts while I'm squeezing on the train back from work:
1. Impressive. Sounds like Sheldon.
2. Asian. No surprise..
3. Wait, you're called Moshe even though you're chinese? WAIT.
4.  The kid is a half jew, half chinese. Le most powerful legendary breed. The secret lies in genetics. The book wouldn't be able to fully share any technique to reach such genius. You can mug as hard as an Intact student, and still be an idiot – if that's what your natural capacity is. No amount of fertiliser can make shitty seeds grow.
5. Perhaps we take for granted that the capacity for hard work and focus sometimes requires natural talent, and varies from person to person.
6. This kid just made a lot of asian parents around the world, and their poor overworked kid more stressed. Not sure if this news made Straits Times. Haven't been reading local news.
7. Shall forward to my parents anyway. Good luck, bro
8. Such books must sell quite well in asian markets. And I'm guessing probably doesn't bring about much sustained improvement.
1. What if you're never really in love with anyone?
"You're never in love with anyone. You're only in love with your prejudiced and hopeful idea of that person. [...] Isn't that how you fall out of love? Your idea changes, doesn't it?"
- Anthony De Mello
Started reading this book my dad passed to me recently (even though I'm supposed to be jampacked busy with other things right now)  This Jesuit priest actually just turned my "people are concepts that are a part of you" idea and turned it into something entirely negative.
2. Here's a nice valentine's day experiment: pose the question – "Would you want me to love you at the cost of my happiness?"
This de Mello guy goes on:
"Wouldn't that be wonderful? She would love me at the cost of her happiness and I would love her at the cost of my happiness, and so you've got two unhappy people, but long live love."
And this is a priest writing about spirituality. Hardly the feel-good message of a mega-church that tries to pander to its customer to increase its market share of Sunday church-goers.
3. Given how I foresee being busy to the point that I'm almost living two (or rather 2.5) lives, I was toying with the idea of the future of relationships for working professionals:
That we have two independent individuals who are busy as a dog, seeing each other only once in a long while. This may actually be a good thing for two reasons. First, it maintains the much needed autonomy that a busy working individual has – given the little time that he or she has. Second, and counter-intuitively, lesser quantity may mean greater quality. From a practical viewpoint, think of it as being Efficient.
Interesting, I wonder how this experiment will turn out. Sounds like not a bad idea — it probably caters to the needs of a few.
In practice, it's probably going to be quite hard to find someone equally busy and non-needy.
February has been an unhealthy month. Never mind the immense amount of junk food I had since CNY, or at work, or even the shortened sleep hours – I haven't had the chance to go running this month, and most of all, I haven't gone to swim my twenty-over laps in a long time. So as I was about to go for my weekend morning jog, I saw my dad putting on his running shoes also – my marathon-running dad -_-
Given that it was my first run in a few weeks, this was not a good start. I was running at least one or two km further than usual. I could keep up for most of it, until I reached the end of the route: that part where you're supposed to turn around and run back. My body actually could be pushed further, but my mind, my mind was is weak. It's probably more psychological than physical that no matter how long or short my running route is, the part where I reach the end and need to turn around, is almost always the part I just give up and change gear to a morning stroll.
That was when he unleashed his true speed — after all that distance covered. It turns out that he actually slowed down for most of the run, probably for me to keep up. Either that, or that was just his warm-up.
As with most things, keeping up with my dad is by no means easy. I later got some pointers on running technique (that I've been doing wrong the whole time). AND as with most things, his insightful advice arrived after I'm done. i.e. how to study for exams, after I'm done with exams. how to do what application, after I've already applied. Or any other important consideration for decision making, after I made a decision already, leaving me with a 'Y U NO say earlier' sentiment.
I can't help but to wonder what other Important Life Decision I'll make, where soon after he'll go "OH BY THE WAY-"
***
As usual, the morning jog leaves me fresh for the day. My mind is clearer, and my body feels heavier yet lighter at the same time. It might not be as awesome as being submerged in cold water, but it is more time efficient and intense. I feel more motivated to somehow find the time to run more regularly – maybe when I'm back from work in the evenings or something.
Quote of the day:
Hold on, I don't know how to write a ransom note. Let me try to google it.
And by seal, I don't mean this:
But this: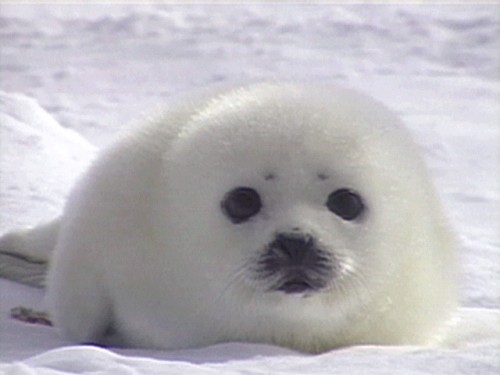 Freaking cute seal stuffed toy in a sailor out fit.
Sigh, and I didn't even get my box of chocolates ):
Oh and for the record, that stupid quote didn't come from me -__- even some random Channel 8 (-ish) gangster knows how to write a ransom note i think.
My day normally starts with me reading the IHT in office. That was when I reached a page with two infuriating articles. I don't have much time to analyse the articles. What I will do is to summarise the article, and just throw out what made me angry.
The first was about Proposition 8 and how its proponents were still pushing for it even though it is temporarily stopped by the appeal court.   Mitt Romney denounced this as an attack by "unelected judges" on "traditional marriage" – rhetoric which would make a lot of sense to the layperson.
While avoiding a discussion about the importance of "traditional marriage", my take is that 1) principles and institutions should, as far as possible, not be at the expense of people and their happiness, and 2) if you are not hurt by it, you should not hurt others for it. And Judge Stephen R Rheinhart sums it up effectively that, "Proposition 8 serves no purpose, and has no effect, other than to lessen the status and human dignity of gay men and lesbians in California."
It's an interesting issue. Protectmarriage.com has two lengthy reports on why marriage matters . But at the same time, the judges wrote a 89 page long judgement rebutting most of the arguments. I would like to have a look when I am more free. I am in no way encouraging deviancy, in fact I find homosexuality to be beyond (my) comprehension – but there is something in me which instinctively finds Proposition 8 irrational and infuriating.
Then on the same page was an article about Cardinal Egan withdrawing his 2002 apology on the sexual abuse crisis. Given the number of allegations, this is hard to believe. Especially since he apologised before – one does not simply make a public apology unless there are very compelling grounds and evidence to do so. What's worse is that he allowed priests accused of sexual abuse to continue working, and felt no need for the church to report abuse cases. I simply cannot see any rational justification for doing so.
For some reason, the combination of both articles in the same page stirred an anger in me – even though I'm not directly affected by either. A very similar kind of anger for both. I'm just not sure which would have pissed me off more.
Was watching a debate on nuclear disarmament today, when I texted some of my friends in the other room:
Having a nuclear weapon is like having a big stick: You don't actually need to use it – you just need to make sure the whole world knows
(Or something that rhymes with stick.)
That was also when some seemingly puritan girl sitting beside me sniggered. It was an "oh shit" moment for a while, until I reminded myself that – all of them act one la. (this one in particular heh)
I am convinced that humour, from the gutter or not, remains as humour. Deluding yourself otherwise is pretentious and self-repressive.